Holes
Written by Louis Sachar
Reviewed by Cassandra W (age 10)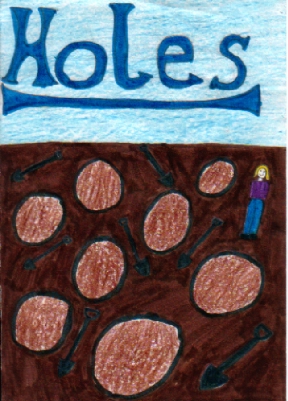 Stanley Yelnats has bad luck. He gets arrested for stealing shoes! Stanley goes to court. The judge gives him a choice. The judge says, "You may go to jail, or you may go to Camp Green Lake." He picks Camp Green Lake. He has no idea what he's in for! A bus takes Stanley to Camp Green Lake. Stanley goes to the office. Mr.Sir tells him he has to dig a hole that's five feet deep and five feet wide every day! The next day Stanley starts to dig. It is very hard. Stanley knows the warden is looking for something, and that's why he has to dig. But what's she looking for???
Zero is the nickname of one of the boys at Camp Green Lake. His real name is Hector Zeroni, but everyone calls him Zero. He does not know how to read or write. He loves to dig holes. Stanley is just the opposite. He hates to dig holes, and he knows how to read and write. They make a deal. Stanley will teach Hector how to read and write, and Hector will dig part of Stanley's hole each day. One day Hector runs away! There is no water for one hundred miles! Will Stanley go after his only friend? You'll have to read the book to find out!!!
I really like this book a lot! My favorite character is Stanley because he's crazy! Stanley's dad is a scientist. He's trying to figure out something to make old smelly sneakers smell good again! That's one reason this book is so hilarious! Another reason is on Stanley's first day of Camp Green Lake, he's too fat to barely get out of the five foot hole he digs! My favorite part is at the end when it starts pouring and pouring and pouring! I love this book and I know that you will too!!!
I recommend this book to all ages because it's such a good book! There are some flashbacks. Most of them are of Stanley's no good, dirty, rotten, pig stealing, great great grandfather! If you read this book, I just know you'll love it because I love it too!!!