Because of Winn-Dixie
Written by Kate DiCamillo
Reviewed by Chelsea M. (age 10)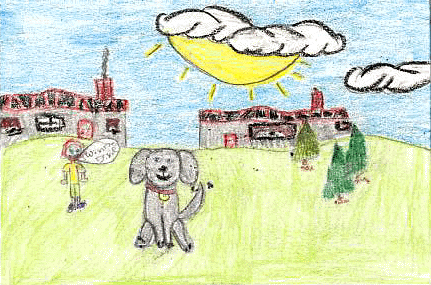 India Opal Baloni lived with her father, the preacher, as she called him. She called him the preacher and he called her Opal. Opal has just moved to a new town in Florida. She doesn't have any friends and she misses her mama, who she has never seen. But, that is all about to change because of one dog, Winn-Dixie, Winn-Dixie helps Opal to make friends with kids, store owners, librarians, and even Miss Gloria Dump, who everybody calls a witch. While Winn-Dixie helps Opal, he also helps the town lighten-up.
This book is a wonderful and interesting story. There are so many unpredicatable and exciting parts, but my favorite event is when Gloria, Dump, and Opal throw a party and everyone on the block is invited.
Winn-Dixie changed a lot of characters' attitudes in this story. He changed Opal's Daddy's attitude. Opal's father was quiet and didn't laugh and have fun. When Winn-Dixie came, he was happy, cheerful, and expressed his feeling to Opal. This book is very different from a lot of books I've read in that this one has no action. It is a story that grows more and more charming and delightful as you read. Because of Winn-Dixie is a happy book, with many surprising moments. This book reminds me of my dog, and how special he is to me. Like Winn-Dixie, my dog is fun, a true companion, and very afraid of thunderstorms. As you read this story, I know it will remind you of many things in your own life.
I think that is book is a story for all ages. You can enjoy it reading by yourself or having someone read it to you. You would like this story if you enjoy happy, funny, and unpredictable stories. If you are into action and mystery, this isn't the book to read. All of the characters' hearts change just because of Winn-Dixie. This is an awesome book and I hope you find yourself reading it !