The Magic Dreidels
Written by Eric Kimmel
Illustrated by Katya Krenina
Reviewed by Dylan D. (age 7)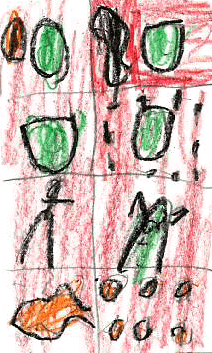 Jacob gets three magical dreidels from a goblin in the well. Every time he tries to take a dreidel home to his family Fruma Sarah switches it with a regular one. The first dreidel spun out latkes. The second dreidel spun out gelt. Fruma Sarah kept those dreidels until the goblin and Jacob tricked her by bringing her a dreidel that spun out fleas. After that Fruma Sarah gave the good dreidels back to Jacob. Then everybody celebrated with latkes and gelt, including Fruma Sarah.
I liked this story because it was funny when the fleas attacked Fruma Sarah. I liked it when the goblin gave Jacob the dreidels. My favorite character was the goblin because I've never seen one before. I did not like Fruma Sarah because she stole the dreidels from Jacob. This story reminds me of Hanukkah because we played with dreidels when we learned about Hanukkah.
I think you should read this book because it's funny and the pictures are cool.