The Hobbit
Written by J.R.R. Tolkien
Illustrated by Alan Lee
Reviewed by Kyle L. (age 11)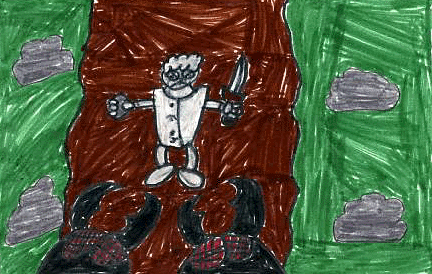 Welcome to a world, where dragons, wizards, trolls, goblins, dwarves, hobbits..... speaking of hobbits, that's what the book's about. The Hobbit is a really good book. It is about a hobbit named Bilbo Baggins, who starts a great adventure (which hobbits aren't expected to have). Along the way, Bilbo finds a magical item that does something that I'm not telling you. He is aided by his friends, which he's happy about.
My favorite part is when Bilbo and company are separated in the forest and Bilbo runs in circles yelling, "Dori, Nori, Ori, Oin, Gloin, Fili, Kili, Bombur, Bifur, Dwalin, Balin, Thorin Oakensheild!" I liked that part because it was funny. Bilbo changed in the story from being grouchy to being joyful. The writing style is very good. The Hobbit is similar to The Lord of the Rings because the main character is also a hobbit. The hobbit also finds a magical item that does the same thing as the item that Bilbo found. My favorite character is Bilbo because he is adventurous, caring, and is a good fighter with a short sword ( a pocketknife to us, adult hobbits are half the size of a human adults).
I recommend this book to anyone (kids or adults) who might have a wild imagination.