The Legend of Sleepy Hollow
Written by Washington Irving
Illustrated by Arthur Rackham
Reviewed by Jennifer B. (age 12)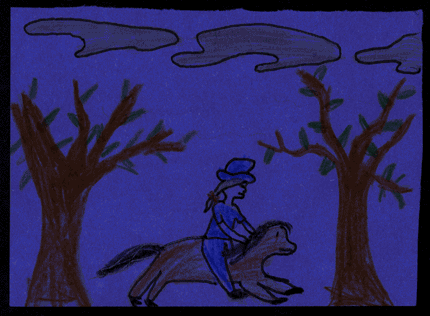 Ichabod Crane has just arrived to Sleepy Hollow and has met a lot of people.Those people have told Ichabod the legend of Sleepy Hollow.
This legend is about a headless horseman who goes around cutting other people's heads in search of his own. This legend scared Ichabod every time it was told. Ichabod Crane had fallen in love with Katrina, a very rich girl, a couple of weeks after he arrived to Sleepy Hollow. One day Ichabod was invited to Katrina?s party, and before the party was over a women started to say the legend of Sleepy Hollow and at the end she said the only way you can escape the headless horseman is by crossing the bridge. That night Ichabod and his horse ran as fast as they could to reach their house. Finally he was up to the bridge that meant that he was near his house. Then something got in his way, it was the headless horseman. Did Ichabod ever escape?
I think that this book was very interesting because it was a legend about a headless horseman that lost his head on a war and since then has been looking for it by cutting other people's head off. I recommend this book to people who like scary legends that took place a long time ago.
This story reminds me of "Bloody Mary" because they are both scary and they are both legends. What makes this story more scary is that it has been told for more than 100 years and it has been told by people who are already dead.