The Magic School Bus in the Time of the Dinosaurs
Written by Joanna Cole
Illustrated by Bruce Degen
Reviewed by Brian O. (age 7)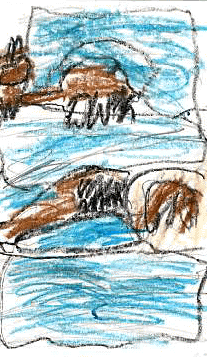 Phoebe, Carlos, Arnold, and Ralphie go on an adventure with Ms. Frizzle. They travel back on the Magic School Bus to the time of the dinosaurs. They saw a phytosaurus, alisaurus, plateosaurus, and other dinosaurs. They learned many interesting facts about the dinosaurs. The adventure was really wild. At the end the Magic School Bus made it back home just in time.
My favorite part of the story is when the stegasaurus and the alisaurus get in a fight because it is exciting. This story reminds me of some of the movies I have seen with dinosaurs in them. I like the pictures because the dinosaurs look real. I like the captions because they make the book interesting. My favorite character is Ms. Frizzle because she's so strange.
I think you should read this book because it is interesting, exciting, and because you can learn about dinosaurs from it.