Miss Spider's New Car
Written by David Kirk
Illustrated by David Kirk
Reviewed by Tanesia D. (age 8) & Rosa M. (age 8)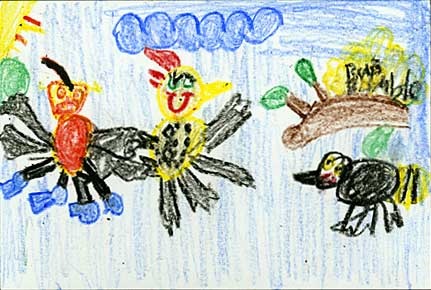 The story is about a spider names miss spider. Miss spider was going to a tea party. Her mother wrote a note that they should come to tea. Miss spider went with her brother. Along the way they saw different kinds of cars. They needed a car to get to tea. They saw a snail they got on it but the snail went to slow.They knew that the snail was going to be slow and slippery. They saw two hungry rats. They were looking at many different cars. And the car was too fast for them because the motor was going too fast. They didn?t take the car cause the motor was running to fast and they did not like it. They wanted to take a car with wings because it goes fast and high in the sky. They wanted to leave because it was going to be three O clock and because it was getting late. Miss spider was crying because she was late. Then miss spider said a moth called moth sue came and miss spider said she could be her car. Her mom gave her a note and it said that I want to take you shopping for a boat.
We think the book was interesting because the pictures were beautiful and impressive. We also liked when the car was going fast. It was exciting because the car was going away from the rats because Miss spider and her brother were scared. What we like about Miss Spider is that before she bought a car she was looking at the rest of them. Because she wanted a fast car to get to the tea party fast.
I would recommend this book to Tyler and kids her age which is eight. I liked what was written in the story and because it was funny.