I Can Read With My Eyes Shut!
Written by Dr. Seuss
Reviewed by ER2 (age 7)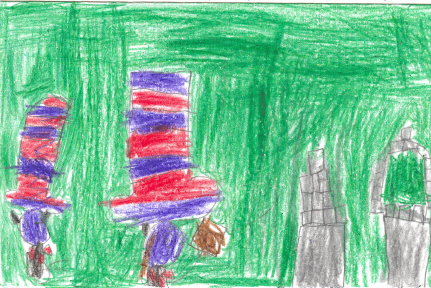 In this story, the cat was showing how he can read in many different ways. He was showing what you can learn and read about. He also said that reading can take you anywhere. While he was reading with his eyes shut, they got red and hot. It is not easy to read with your eyes shut. I have not tried before but I imagine it would be hard to do.
I liked this book because when the cat was reading the book, his eyes got red. That was my favorite part. It was kind of funny. In this book, there are two cats in hats. One is big and the other is little. I like them both.
This book reminds me of The Cat and the Hat. I have that at home. It has some of the same characters. They were both written by Dr. Seuss. I like his drawings a lot. I have seen his cartoons before. They are always funny. He uses lots of rhyming words and that makes his books fun to read.
My sister and I always play school. I read Dr. Seuss books and we talk about the rhymes. I read his books and check them out of the library.
This book reminds me of how I like to read. I like to read to learn about teaching kids and animals. I like unicorns, too. When I grown up, I want to be a veterinarian.
I don't think that people can really read with their eyes shut. I think he just made that part up to be funny.
My friend Javier would like to read this book because he picks Dr. Seuss books from the library. I think lots of kids would like to read this book.
My mom, my dad and my sister would not like to read this book because it might be too easy for them. It is a little easy for me but I like it anyway.
I plan on reading ALL of the Dr. Seuss books. I would love to have all of the books at my house.