Arthur's Halloween
Written by Marc Brown
Reviewed by AR3 (age 8)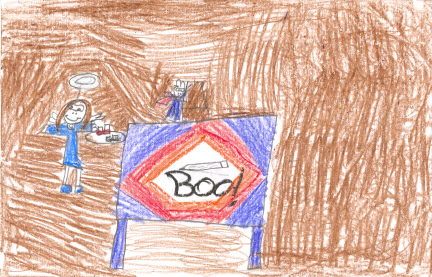 This book is a scary book. In the beginning of the book, Arthur was getting ready for Halloween. He was going to have a party. D. W. scared Arthur with her costume. At school, he couldn't recognize anyone except the Brain. Everyone had costumes on. Even his teacher dressed up as a robot. They had a party and then they went trick-or-treating. There was an old lady and they thought she was a witch. Arthur was scared and lost all of his candy. D. W. went into the house and Arthur followed her. All their friends thought they were in danger. What really happened was that the old lady was nice and became their new friend. Arthur told the lady he would help her fix up her yard.
I like this book because it's scary. I like scary movies and scary books. Also, I like it because it's Halloween and that's one of my favorite times of year. You get lots of candy.
This book reminds me of a time when I went with a friend to go trick-or-treating. We were scared. There was a wierd house that had lots of decorations and they had lots of candy. We ran from a witch.
This book makes me wish it was Halloween today. For Halloween, I was a fairy godmother this year but next year I will be a cheerleader.
This is the first Arthur book I have read. It makes me want to read other Arthur books. I want to read Arthur's Christmas next.
Other people should read this book. I am going to tell all of my friends to read it because they like scary books too. You should read it too!