Froggy's Halloween
Written by Jonathan London
Illustrated by Frank Remkiewicz
Reviewed by student in Mrs. McDonald's ELL Students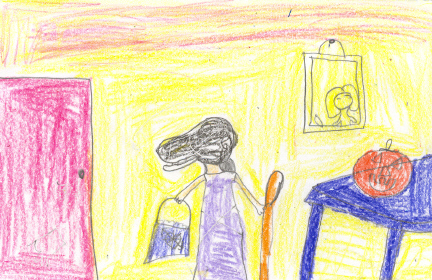 I liked this book. It was about a frog who wants to dress up for Halloween. He makes a jack-o-lantern. He wants dress up as a Super Frog, or a ghost or Dracula or a monster. He can't decide what to be. He was scared at night. He decided to dress up as a frog prince. The girl frog kissed him and it scared him. Then they saw a witch. They were scared. Froggy's trick-or-treat bag broke and the candy was in the floor. He lost all of his candy but his mom gave him chocolate covered flies to eat.
My favorite part was when he was scared at night. Sometimes I get scared of monsters at night. Sometimes I think I see two heads but when I turn on the lights, there are not any monsters.
I have read other Froggy books. In one book, Froggy played football. I want to read more books about Froggy.
I like the pictures in this story. The illustrator uses lots of good colors.
I want to go trick-or-treating next year for Halloween. It looks like it would be fun. I haven't ever gone before.
I think my teacher would like to read this book. She likes funny books. Also, little kids would like to read this book.