Me Too !
Written by Maryann Dobeck
Illustrated by Anne Sibley O'Brien
Reviewed by LRS3 (age 8)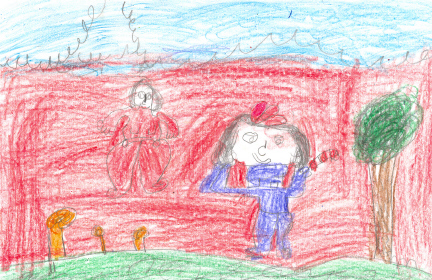 This book is about a boy who wants to play baseball and do other things alone and with his friends but his little sister says, "Me Too!". He doesn't like it when his sister wants to play with him. When girls play football, they have to play carefully. When he has some cake, his sister says, "Me Too!" and he has to share his cake. At the of the story, he realizes that sharing is a good thing.
I enjoyed this book because there's lots of cool stuff and details about it. The pictures have lots of detail. I noticed that in this story they wear the same clothes. It reminded me of my brother a little bit because he likes to play baseball too.
My favorite character was the little girl because she reminds me of my sister when she was little. She always wanted to play with us too.
I have read other Little Critter books before but this one was my favorite. This makes me want to read more Little Critter books.
Other people should read this book because it has cool details. Each page says, "Me Too!". I think my dad would like to read this book the most. My brother would also like to read it. I will be reading more Little Critter books soon.