Froggy's Best Christmas
Written by Jonathan London
Illustrated by Frank Remiewicz
Reviewed by VRS3 (age 8)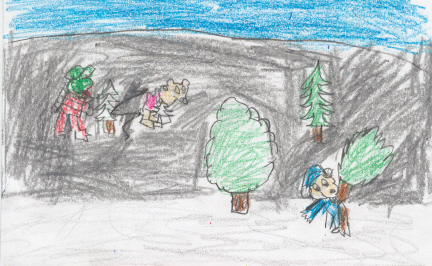 This book is about how Froggy's looking for a perfect tree to put up in his house. His friends help him look for the tree. His friend is a beaver and he helps cut the tree down. They take the tree back to his house and put pine cones on the tree. He also puts popcorn on the tree. Froggy makes a present for his mom. It is a picture of him when he is little. Dad's present is a painted pine cone that he made to look like a Christmas tree. He tried to put the star on top, but he knocks the tree over and he looks more red than green. On Christmas, mom and dad open their gifts. All the friends get roasted chestnuts. They sing songs and eat and have a snowball fight. At the end of the story, his friends go back to their families to have some fun.
I liked this book because they got to play snowball fights. I do that with my brothers. It is supposed to snow here tomorrow. If it snows a lot, I might play a snowball fight.
I have read other Froggy books about Halloween and this book is very different. This one has snow and Christmas. Christmas is joy and Halloween is scary.
In this book, the beaver and the turtle are my favorite. I didn't like the bear. He eats a lot of turkey.
The illustrations in this book are great. I would like to keep practicing my drawing so that I could draw this well.
This reminds me of how we celebrate Christmas at my house except that instead of making presents, I buy presents. Christmas is my favorite time of the year (along with Halloween).
Other people should read this book. My brother would like it. My friend, Tom would like it too because he likes Froggy books. I don't think people who don't celebrate Christmas would like this book. Everyone else would, though. You should read this book! It's very good!