Thanksgiving Cats
Written by Jean Marzollo
Illustrated by Hans Wilhelm
Reviewed by MB5 (age 11)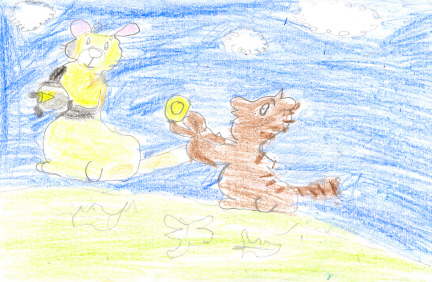 In this story, cats grew corn, potatoes, peas, pumpkins and apples. They got milk from cows to make cheese and butter. They also made bread. The cats cooked some food and ate it. Then they took a nap and rested because they were so full and tired. When I eat a lot of food, I want to sleep, too.
I like this book because the animals are carrying on the Thanksgiving tradition. I am from Mexico. They do not celebrate this holiday. I like Thanksgiving. It's important to say, "Thank You".
This is the first book that I have read about Thanksgiving. It makes me want to read more books about Thanksgiving.
The pictures in this book are pretty. The cats are all different. I am good at drawing cats and I liked drawing a picture of this story.
Other people would like this book. Little kids would like it the most. Some old people would like it, too. I enjoyed this book.