"Not Now!" Said the Cow
Written by Joanne Oppenheim
Illustrated by Chris Demarest
Reviewed by student in Mrs. McDonald's ELL Students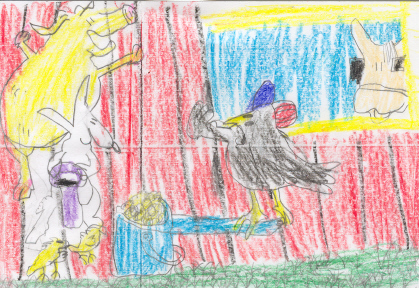 This story is about a crow who finds some seeds. She wants the other animals to help her plant them and take care of the plants. Nobody wants to help. At the end of the story, she uses the plants to make a tasty surprise. All the animals want to help her eat it. Since they didn't help her make the surprise she doesn't share with them.
This story is just like "The Little Red Hen" only with different characters. It's much funnier, too. I've read the other book to my sister before. She would like this one more because it's so funny.
The drawings are very good. The animals look a little silly, though.
This book is special because it has lots of rhyming words in it. When I read this book it made me laugh and smile.
Other people should read this book. Girls and boys would like to read this book. Even adults would like to read it. Probably little kids would like it the most. I want to read it again and again and again!