Arthur's Valentine
Written by Marc Brown
Illustrated by Marc Brown
Reviewed by CC2 (age 8)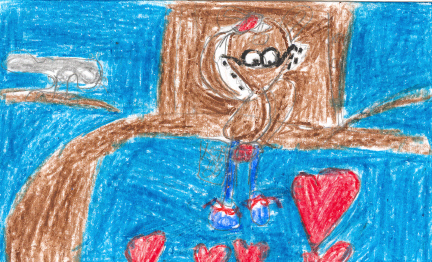 This book is about Francine and Arthur on Valentine's Day. They like each other. Arthur has a secret admirer that gives him valentines. He isn't sure that it's Francine. At the end of the book, she gives him kisses. That was my favorite part. Francine wanted to kiss Arthur earlier in the book but he ran away.
This book reminds me of myself because I am like Arthur. I have a crush on someone but I don't ever tell people. That's because I don't want to be embarrassed. When I grow up, I will get married. We will have two kids. Only older people have girlfriends and boyfriends.
I have read other Arthur books before. I read Arthur's Halloween and Arthur's Christmas Tree. I liked the Christmas one the best because that is my favorite time of year.
I think it's really neat that Marc Brown wrote the words to the book AND drew the pictures. He is very talented. I would like to be able to do that someday. If I could write children's books, I would write joke books that were funny.
I think my cousin would enjoy this book because he likes Arthur too. People in my class would like this book too because it's not too hard for a second grader to read.
If you don't like Valentine's Day, you would not like this book.