Arthur Writes a Story
Written by Marc Brown
Illustrated by Marc Brown
Reviewed by student in Mrs. McDonald's ELL Students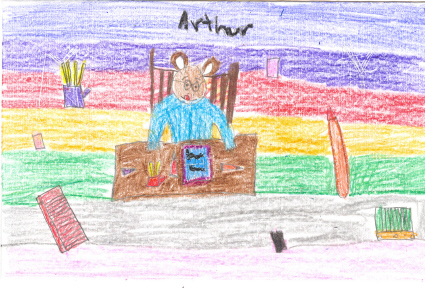 In this story, Arthur has a problem. His teacher wants him to write a story but he can't decide what to write about. He solves his problem by writing about his puppy. Everyone liked the story then. Puppies are cute.
This book reminded me about a time when I had to write a story at school. I kept on messing up. Finally, I got it right. My teacher said it was a good story.
Arthur was hanging out with his friends in the story. That reminded me of how I hang out with my friends, too.
The illustrations in this story are good. They use pretty colors. They look just like the cartoons.
This book reminds me of other Arthur books I've read. They have the same characters in them.
I enjoyed this book because Arthur had a great imagination. I think kids and teachers will like this story because of the good illustrations. Also, it will help people become better writers. Read this book!