Froggy Eats Out
Written by Jack London
Illustrated by Frank Remkiewicz
Reviewed by MC5 (age 11)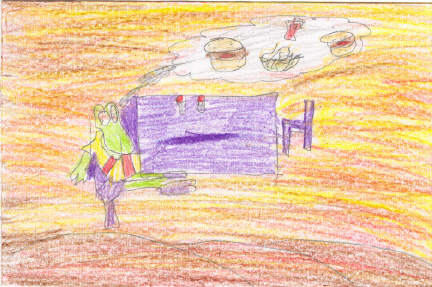 In this story, Froggy is hungry and he wants hamburgers. His mom told him it was her anniversary and that they were going out to eat to a fancy restaurant. At the restaurant, Froggy's mom asked him to be neat and quiet. He couldn't. He saw Frogilina and her parents. Froggy makes a mess and is embarrassed. The family decides to go eat hamburgers and flies instead.
My favorite part of the story was when the tablecloth was pulled off of the table and the spaghetti landed on Froggy's head. At home, this happened to me when I was eating soup!
This is the only Froggy book I've read, but it makes me want to read more of them because they are so funny.
The pictures are bright and colorful. There's not much white left on the page.
This book is special because my cousin, Jose likes Froggy books. When I read this book, it reminded me of my cousin.
I think other people should read this book. Everybody would like it but I think Americans and Mexicans would like it the most.