The Giant Jam Sandwich
Written by John Vernon
Reviewed by B.J. (age 7)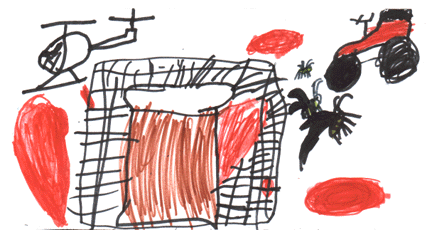 It's about four million wasps taking over a town. It's like an invasion. And the villagers don't know how to get them out of town. The lesson of the story is to cooperate together when you have a big problem.
I like this book because it's funny, it rhymes and at the end the people come up with a good solution. My favorite part was when the giant jam sandwich went splat because it's a funny part. I liked Bab the Baker because he has a good and funny idea to help the village. The illustrations make the words funny and that makes the book funny. It's a really funny book. It's not really like any other book. Like four million wasps flying into town is weird. You don't hear about that in any other book. I felt good and funny when I read this book.
This book is good for any age.