The Best School Year Ever!
Written by Barbara Robinson
Illustrated by none
Reviewed by Veronica D. (age 7)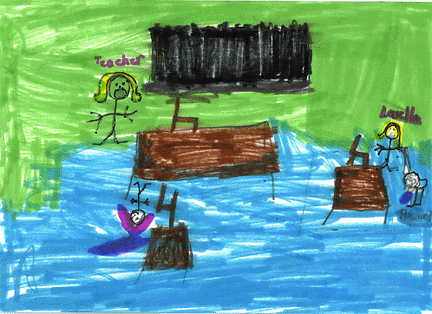 "The Best School Year Ever" is about a family called the Herdmans. They are nuts and crazy. Beth Bradley is telling this story. Imogene Herdman is in her grade. The students in their class had to make up compliments about someone, and Beth got Imogene's name. It was hard for Beth to make up compliments about Imogene because she was so bad! All the Herdmans were bad! They were funny too! Some funny parts are when Imogene buttered Boyd's head and bent his ears and got his head out of the bike rack. Imogene also told kids they would get lost in the teacher's lounge if they went in there. Could Beth find compliments for Imogene? You have to read the book to find out.
My favorite part was when Louella brought Howard to school with a leash on his neck. I liked this part because it made me laugh the most. My favorite character is Alice Wendelken because she was smart. It is important to me that I get good grades in school. This book reminds me of my life because my brothers beat me up like the Herdmans beat up smaller kids.
I recommend ''The Best School Year Ever'' because the Herdmans were nuts, and you would like reading about them. I think kids over ten could read this book.