Hatchet
Written by Gary Paulsen
Reviewed by Antoniel F. (age 10)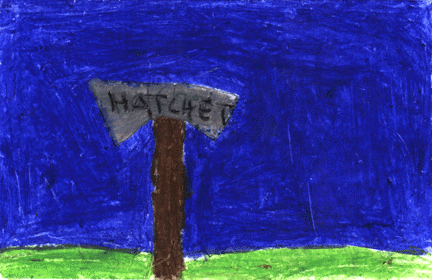 The story is about a boy named Brian whose mother and father are divorced. Brian is going to see his father. Brian is going on a plane. He is the only passenger. Brian's grandfather gave him a hatchet as a gift. Something bad happened to the pilot and he couldn't fly the plane. Brian tried to fly the plane. Brian had little control of the plane. The plane went down. They crashed in the middle of nowhere. Did Brian die? How did the plane crash? Want to find out then?READ HATCHET!
I think the story was the most exiting book I've ever read because of all the fights with animals. Brian even broke his ribs fighting a bear. The book is good. Hatchet is a part of a series. The other books are The River, The Winter, and Brian's Return.
You will like this book if you like mystery, excitement, and action, especially action.