Stone Fox
Written by John Reynolds Gardiner
Illustrated by Marcia Sewall
Reviewed by Donald A. (age 8)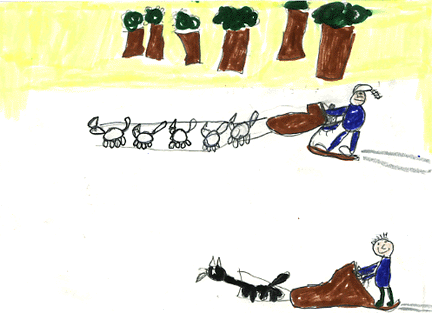 This book is about Little Willy, Grandfather and a dogsled race. Grandfather got sick so he didn't pay the taxes on their farm. So Little Willy joined a dogsled race to win the prize money to pay the taxes. Little Willy and his dog, Searchlight, practiced a lot. He made up his mind to win, but Stone Fox wanted to win, too. Stone Fox was a Shoshone Indian who always won dogsled races. Who wins? Read "Stone Fox" to find out.
I really liked the part when they started the race. It was funny when Searchlight took off and Little Willy almost fell off the sled. I liked Stone Fox and Little Willy the best. Little Willy helped his grandfather when he got sick by feeding him every day. Stone Fox helped Little Willy by doing something during the race. My favorite illustration is the one when they're racing. It made me feel excited.
I recommend "Stone Fox" to people who like reading about dogsled racing. It was a really exciting book to read. I think people eight and up can read this book.