The Canada Geese Quilt
Written by Natalie Kinsey Warnock
Illustrated by Leslie W. Bowman
Reviewed by Alainna J. (age 7)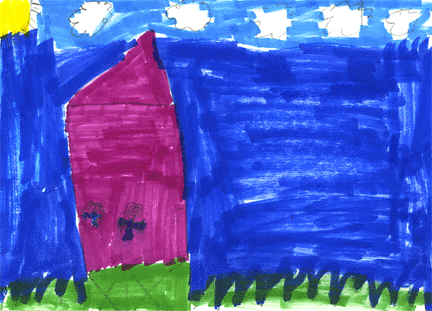 The book is about Ariel and Grandma and the quilt. Ariel and Grandma were making a quilt for the new baby. After Grandma had a stroke, Ariel had to finish the quilt. Grandma had to stay at the hospital for a while. Ariel was sad for Grandma. She thought Grandma was going to die. Ariel showed Grandma the butterflies outside and then she got better. Then they both gave the quilt to the baby brother.
This story made me sad and happy both because one part is happy and one part is sad. The happy part is where Grandma and Ariel were making a quilt together. The part that is really sad is where Grandma had to go to the hospital. My favorite part is where Grandma and Ariel are talking in the hayloft. I like this part because Ariel and Grandma were closer together then, and that made me glad. I really like this book a lot because it reminded me of my grandma. I talk to her, and walk around outside with her, and I love her very much just like Ariel.
I recommend "Canada Geese Quilt ". I think my big sister would like to read this book. Kids in the fifth grade could read it.