Absolutely Normal Chaos
Written by Sharon Creech
Reviewed by Sarah K. (age 9)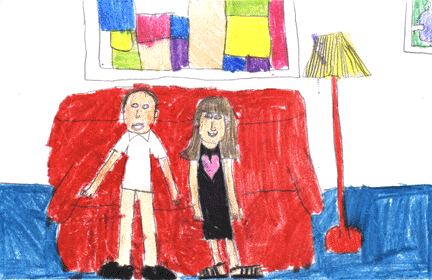 The story "Absolutely Normal Chaos" Mary Lou Finney and a crazy summer she lives. Mary Lou writes a diary about her summer because her teacher asks her to write a journal for her new English teacher for next year. There is just one problem she doesn?t know what a journal is. She asks her mom what a journal is and she says that is like a diary but different. Mom is about to explain but Mary's brother Dennis is throwing eggs at the new neighbor's house and her mother has to go get him to stop. One night Mary Lou and her other 7 family members (Sam the dad, Sally the mom, Maggie the older sister, Dennis, Dougie and Tommy the little brothers) get a letter from their cousins who live in West Virginia. One of their kids (Carl Ray) wants to come down to Easton to look for a job. He is coming on Saturday. On Saturday, everybody waits all day long, then at noon Carl Ray comes. He is a disappointment to Mary Lou. All he does is sleep and watch T.V. and he sneaks up on you like he just magically appears. When Carl Ray comes Mary Lou goes to the pool a lot and this boy named Alex Cheevy is there also. Mary Lou knows him from school. She also knows that he lives in Norton, not Easton, and wonders why he is coming here. Mary Lou goes to the pool every day and Alex goes too. They talk a lot to each other. One day Alex asks Mary Lou to be his girl friend. They become boyfriend and girlfriend. Everybody thinks that Carl Ray came to Easton to find a job, but that?s not the real reason. If you read this book you will find out why he came to Easton and a lot of things about Mary Lou.
I really liked the book a lot. It was interesting the way she told about Mary Lou's life. I didn?t really have a favorite part because I liked reading the book. When Alex asked Mary Lou to be his girl friend I thought that that was nice. I liked Mary Lou a lot she was the main character so I knew a lot about her as the book went on. How she changed through the book is a very emotional thing. In another book Sharon Creech wrote the character is also a girl about the same age and her summer but it is not in diary form. The book does remind me of how mixed up I get and how I get mad at friends and don?t know what to do because I usually play with one friend at a time. I never really thought about making other friends.
I think that you would like to read this book because you can relate to it in many ways. Another reason why I think you will like it is because if you like to do sneaky things like read other people's diaries you will like this book because it is in the form of a diary.