Crictor
Written by Tomi Ungerer
Illustrated by Tomi Ungerer
Reviewed by Mario M. (age 8)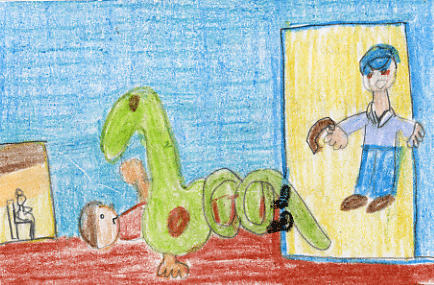 This great story begins when Madam Bodot receives a gift from her son who lives in Africa. You will be surprised to read all the adventures that Madam Bodot and her knew pet Crictor have together.
I liked this book very much. My favorite character was Madam Bodot because she was like a mother to Crictor. She was not afraid of him; she took care of Crictor by keeping him warm. She knitted him a shirt and a hat for him to wear during winter. She also fed him well by giving him bottled milk. I also liked the illustrations. Crictor's picture is the one that stands out the most because does silly things such weird shapes with his body. The part of this book that I liked the most was when Crictor coiled around a burglarer to save Madam Bodot's life.
If you love snakes, and are interested in reading a story about a true hero, then Crictor is the right book for you! I recommend you to read this book because Madam Bodot and Crictor and funny, friendly, and caring characters that make you laugh a lot!