Biscuit's New Trick
Written by Alyssa Satin Capucilli
Illustrated by Pat Schories
Reviewed by Lyndsey G. (age 7)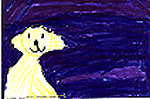 This book is about a puppy named Biscuit. Biscuit learns a new trick. Biscuit will go fetch the ball. Biscuit rolls around his bone. Biscuit rolls over. Biscuit went to get his other bone. The owner tried to get Biscuit to go fetch the ball. Biscuit got the ball and then saw a cat. Biscuit went into the mud to get the ball. Biscuit fetched the ball from the mud and brought it back to the owner.
I liked this book because Biscuit is the cutest puppy ever. My favorite part is when Biscuit chased the cat because he looks cute running after the cat. I thought the pictures looked pretty.
I would recommend this book to kids. It is a good kid book.