The Wide Window
Written by Lemony Snicket
Illustrated by Brett Helquist
Reviewed by Chloe B. (age 10)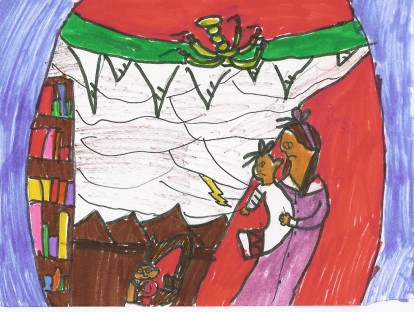 Do you enjoy reading books? Do you like a good mystery and at the same time a tragedy? A book that you can sink your teeth into. Or do you like a nice story with jolly people and a happy ending? If you said yes to a happy ending, then this is not a book for you.
This is the third book in the Lemony Snicket series. It is called The Wide Window. In this book, there are three children, the Baudelaires. Violet is the eldest, Klaus the middle and Sunny, their baby sister. In the first book, the poor children?s house burned down with their parents. They had to live with a horrible man, Count Olaf. Count Olaf tries to steal their fortune by marrying Violet. Violet and her siblings manage to escape. In book two, Cound Olaf shows up again right as they were settling in with their new guardian, Uncle Monty. Count Olaf disguises himself. Just read more to figure out what happens next.
Now to book three, The Wide Window. Book Three is about their new guardian Aunt Josephine. Aunt Josephine is scared of everything. She won?t even pick up a phone. While Aunt Josephine is shopping, guess who the three lucky children bump into? Yep, their favorite Count Olaf. This time, he is disguised as Captain Sham. Later on, he threatens Aunt Josephine. He forces her to write a letter. Next thing you know, she is gone. The children use the note to find Aunt Josephine.
They find her at Curdled Cave. When they sail away, the leeches of Lake Lachrymose attack. They get in trouble because Aunt Josephine ate a banana and didn?t wait one hour.
Count Olaf comes and rescues them. That was no help because he did something very naughty. Read more to find out what happens next.
This book is not like any other book you?ve probably read besides the ones in this series. It may be a little too disturbing, but you will enjoy it.
All of the books by Lemony Snicket have horrible, tragic disasters. In one book, they hung Sunny from the top of a building. In this book, they leave Aunt Josephine to die.
Something very similar happens in all the series. This might not attract you to the book, but, in every book, someone gets murdered. In the first book, it was the Baudelaire?s parents, the second, Uncle Monty, and the third, Aunt Josephine.
This book is very unique because so many bad things happen to the Baudelaires. You may even find it upsetting. One minute you may be crying. The next, you might be hysterically laughing. I know you are definitely going to say ?uh-oh? a few times.
This book is definitely a book I recommend because Lemony Snicket even tells you what the meaning of the word is. I think that mature audiences who like a good mystery, comedy and tragedy should read this book. They should also be about nine years old and up to read this book. This book contains a lot of violence. I hope you enjoy all the other books in the series.