Purple, Green, and Yellow
Written by Robert Munsch
Illustrated by Helene Desputeaux
Reviewed by Nate F. (age 0), Zach P. (age 7), Lucas C. (age 7)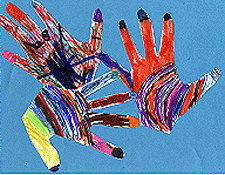 Brigid wanted washable markers, then smelly markers, and then never come off until you?re dead or even later markers. Her mom bought them for her and she made pretty pictures until she got bored. Then she colored her nails, hands, face, then her whole body with the never come off markers. She tried to get the marker off, but it wouldn?t come off. She said, ?My mother is going to kill me!? Then she had an idea, she colored herself with a special marker that looked herself. But when she had to wash her hands and face the special marker came off and showed the other marker. Her mother asked her if she colored herself with the washable markers? No! The smelly markers? No! The never come off markers? Yes! The doctor came over and gave her a pill, she waited five minutes and then took a bath. She was invisible. Then she colored herself and you couldn?t even tell the difference. She even colored Daddy and no one has noticed, except when it rains!
We liked this book because she colored on herself and then she was invisible. Our favorite part was when she was invisible and then colored herself so no one would know the difference. It?s so funny! We liked the pictures in this book because the illustrator did a good job with them. Zach liked the part where she colored herself with the markers that never come off.
We would recommend this book to kids all over. Moms may not like this book because Brigid colors on herself.