If You Take a Mouse To School
Written by Laura Numeroff
Illustrated by Felicia Bond
Reviewed by Corey E. (age 8)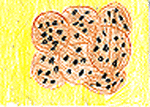 A boy had a mouse that wanted to go to school with him. He took the mouse to school and it looked around and made messes. When they went to lunch he saw building blocks and built a mouse house and ate his lunch in there. He made his own book and went outside to play basketball, soccer and skateboard. Then he was hungry and didn?t have any more food and then he wanted to go back to school.
I thought this book was funny because when mouse didn?t have a lot of food left he went back to school and it started over again. My favorite part was when he built his mouse house. It was my favorite because it looked like a real house. I liked the illustrations because of the bright colors. This book follows the same pattern as the other books that this author has written.
I would recommend this book to anyone who likes to read. It is a good book. You will like it if you have read the other ?mouse? books by Laura Numeroff.