Fox Be Nimble
Written by James Marshall
Illustrated by James Marshall
Reviewed by Ross H. (age 9)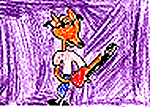 This book is about a fox who is getting ready to go to a concert. He is going to play a rock song. He had to babysit kids in the afternoon and they were sliding down a rail post and swinging from a chandelier. They went outside and played with balloons and they floated off with the balloons. He thought that he could catch them if he went to the high dive at the pool. He forgot he was afraid of heights. The fireman got them down for the fox. His mom watched the news that night and saw the fox and the fireman getting the kids down. There is another story in this book, but you will have to read it for yourself.
I thought this book was very funny. The funniest part was when the kids were swinging on the chandelier. It might be fun to swing from a chandelier. The pictures made the book even funnier.
I would recommend this book to other kids. I think this would be a good babysitting handbook.