Power and Glory
Written by Emily Rodda
Illustrated by Geoff Kelly
Reviewed by Terry B. (age 11) & Nate O. (age 10)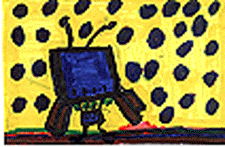 Power and Glory is about a boy who is trying to play a video game. He kept getting farther into the game each time. His brother or mom or dad or sister would always interrupt him during the game and he would mess up. Each time he would play the game he would get further. You?ll have to read to find out if he ever reaches the end of the game.
We both liked this book because he got to play on Playstation 2. Our favorite part of the book is at the end because he finally got to play the game without any interruptions. Our favorite character in this story is the boy because he got to play Playstation 2.
We would recommend this book to a lot of people. It is a great book. It is a funny book and it will cheer you up.