Arthur's First Kiss
Written by Mark Brown
Illustrated by Mark Brown
Reviewed by Jon O. (age 8)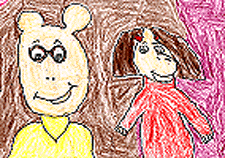 Arthur is going to a party tomorrow and plans to kiss Francine. D.W. asked if she could go, but Arthur said no. At the party Arthur was picked to go first. D.W. peeked into the window and saw Muffy putting a blindfold on Arthur. Then Pal, D.W.?s dog, ran into the house and ran up and kissed Arthur?s face. Arthur took off the blindfold just as Francine was going to kiss him. When they got home Arthur told D.W. thanks for saving him and he gave Pal a kiss.
I really liked this book. I liked the part where Francine was going to kiss Arthur. That was my favorite part. It made me laugh. I?m glad that Francine didn?t kiss Arthur. Francine was my favorite character in this book because she is funny. This book has the same characters as the other Arthur books. The Arthur books are my favorite books in the library. I felt glad when I read this book because Francine didn?t get to kiss Arthur. I didn?t want that to happen because Francine would have liked Arthur a lot.
I would recommend this book to other people because it is a good book. I would recommend this book to my mom.