Crash
Written by Jerry Spinelli
Reviewed by Crystal C. (age 12)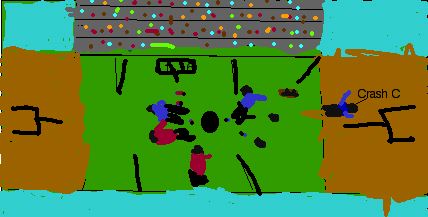 Crash is about a boy who loves football. He has a four year old sister named Abby. Crash isn't his real name that's his nickname. His uncle called him that because he tackled his cousin and she flew out the door and started bleeding. Crash's real name is John but everbody calls him Crash.
Crash knows a boy named Penn. He thinks he is weird. Crash is also running for the Penn Relays. Penn goes and plays with Crash, but Crash doesn't like Penn because he to nice and he doesn't like to play with water guns and doesn't like to wrestle or any thing with violence because his religion.
Crash's grandfather comes to visit the family. Scooter tells Abby and Crash stories of wars, but some thing happened to Scooter while he was sitting on the ground outside right next to the tree. Scooter goes to the hospital.
Finall Crash races in the Penn relays. Crash sees Penn's mom and dad at the relays. Crash feels embarassed because his dad and mom didn't show up. Crash comes home and asks his parents how come they didn't go see him play. Dad and Mom didn't know what to say. Crash had lots of football games the parents didn't show up, even though they promised him they would show up.
I think his writing style is good because it talks about all the characters and it has lots of good explanations about the book. I think that it was a great book and I'm glad that we read this book in class. I found Abby and Penn interesting because Abby cares about the nature and wants to make a wild life habitat tree house and she's not afraid of mouses and collects worms and bugs. Penn is interesting because he doesn't play with water guns and doesn't wrestle and all the other boys do play with that stuff,he also becomes a cheerleader. This book is not like any other book that I have read. I really enjoyed it even though I don't like to read.
I think the author is trying to teach people that you shouldn't judge your friends by the way they look. Sometimes the best friends are the ones you would never expect.