Charlotte's Web
Written by E.B. White
Illustrated by Garth Williams
Reviewed by Andrea C. (age 12)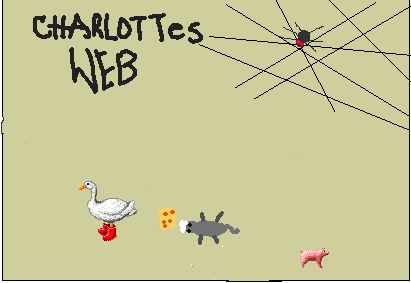 Charlottes Web is about a man who almost killed a pig.
But thanks to the killer's daughter, Furn had saved the pig. Then the little girl took good care of the pig. Furn cared for Wilbur the pig. When it rained the little girl put the pig in the barn. When Wilbur lived inside the barn he meet Charlotte the little spider. Once the little pig got to the barn he sleep there. Wilbur met a sheep called Lady. Once he got to live at the barn he lived there for the rest of his life. One day the little girl was looking for Wilbur and he disappered. The little girl was looking for him every were.She finally found him. He was inside the house looking for food.
The part that was the best was when Miss Spider wrote Wilbur's name with the web.When Furn's dad came home he saw a lot of people next to the barn and he was mad at seeing lots of people. When he walked up he said, "What happened here?" everyone said, "What beautiful writing!" and he said, "oh, why thank you."
I think the book is great. It has a good begining and ending. I like this book because it is good fiction book. It is a good because it gives good details and good meaning about the book. Another book that was like this book is Junie B. Jones in the First Grade. Both books give a lot of detail and description.
Yes, I recommend this book because it is very exciting and you can't wait to keep reading the book. I think the audience would like this book. I think this book is interesting because Furn finds a new friend she could care for. The author had good parts and bad parts. The book teaches you that you can find friends anywhere and you should be loyal to them.