Miss Know It All
Written by Carol Beach York
Illustrated by Victoria De Larrea
Reviewed by Maia M. (age 9)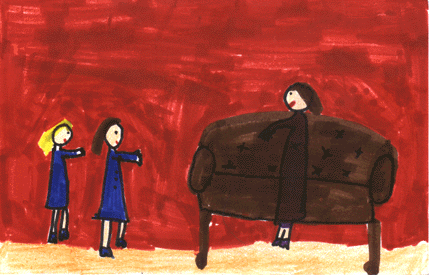 Knock knock...Knock knock... There is a knock on the door of a girls orphanage and in comes Miss Know It All. All the girls get in a line to ask Miss Know It All questions to find out if she knows all the answers . There were many questions like ?What is 1,065,811x 942??, ?How far is the sun?? and ?Who invented the telephone ??.One question is about to be asked, ?What is the largest room in the world?? Do you think she knows the answer?
This was a good book, but it is a one time read. It wasn?t the best book in the world.There was a character, Mr.Not -So -Much, that I didn?t think was important in the story.My favorite part was when all the girls were in the line and they wanted to ask Miss Know It All questions, I was curious to see if she could prove she knew the answers.
I recommend this book for people who ask a lot of questions. I think these are questions that might interest someone.