Come along Daisy
Written by Jane Simmons
Illustrated by Jane Simmons
Reviewed by Danielle S. (age 7) & Christina W. (age 7)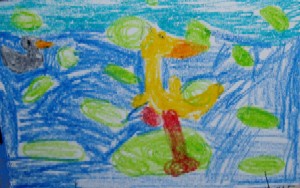 This book is about a duck who does not listen. She is told to do things, but she doesn't do them. She learns the lesson to follow directions so you don't get in trouble.
Christina's favorite part was when she jumped on the tadpoles. Danielle's favorite was when she met the frog. We really liked the illustrations in the book. They were very colorful. We also liked the lesson she learned. We have learned the same thing in school.
We recommend this book to anyone who likes ducks and anyone who likes colorful pictures.