Baby Beluga
Written by Raffi
Illustrated by Ashley Wolff
Reviewed by Blake S (age 7)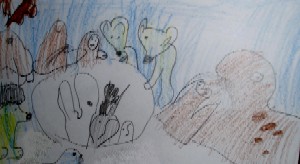 This book tells the story of a little white whale. The whale swims free and sings a song. It plays in the water and squirts water out its spout.There are many other animals that live near the whale in this book.
I like the page when all of the animals say that they like to hear his song. I like it because I like the picture of all of the animals. I like the bear the best because of its picture.This book makes me want to swim with the whales.
The pictures are very good. They look real. I recommend this book to people who like to sing because you can sing this book.