The True Confessions of Charlotte Doyle
Written by Avi
Reviewed by Matilda B. (age 9)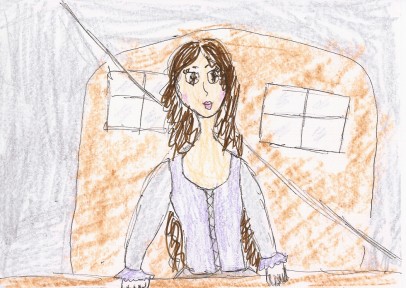 Not every nineteenth century girl goes on a ship alone and turns into a rowdy sailor. Not every day do you see a girl throw a knife with the skill of a well-trained pirate. Not every girl changes Misses to Mister, long hair to short hair, fluffy skirts to rough breeches and her cream white hands all for the trust of a crew.
Charlotte Doyle does all this to take revenge on a mutinous pirate of a captain.
Charlotte Doyle goes on a ship to America and gets this amazing experience full of rats and roaches and danger everywhere.
I really liked the character Zachariah. He was smart and good, but I also like Charlotte. She is very brave and I would like to be like her.
This book is so special to me. I have never read a book like it. It?s nerve racking, but, at the same time, you?re thinking the author must have somehow conjured glue into it! You are stuck reading twenty-four ? seven!
As I read this book, I thought of the things I could do to be more like Charlotte. Go on a sailing trip again for instance! I was so moved, so scared, so anxious. I really loved this book!
A feminist or a teacher reading to her/his students would love this book. This is a mystery mixed with an adventure in 200 pages. A reader looking for a book thick and juicy would find their pleasure here.