Dinosaurs Before Dark
Written by Mary Pope Osborne
Illustrated by Sal Murdocca
Reviewed by Jordan J. (age 9)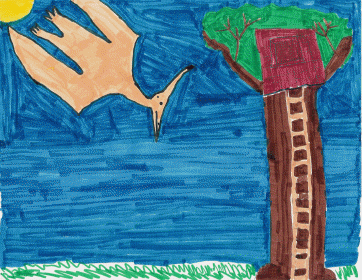 In this story, Jack, an eight year old boy, and Annie, his seven year old sister, found a magic tree house. To their surprise it is full of books. Jack finds a book full of dinosaurs. He wishes that he could see one dinosaur that was in a picture in real life.
Then, they hear a pteradon. Jack and Annie said that there are no pteradons in Frog Creek, Pennsylvania. Then when they looked out of the window they saw lots of dinosaurs.
At one point, Jack can't get back to the tree house because there is a dinosaur in the way. It is a Tyrannosaurus Rex. He feels like he can't find a way to escape.
This book is part of a series. Jack and Annie are in all of the books in the series. In all of the other books there is a reason that they go to the places. In this story, Jack just picked up a book and said that he wished he could see a dinosaur. This book is like other books in the series because they all have adventures and they gather things for Morgan LaFay, the person who owns the magic tree house.
I like this book because it has a lot of adventures in it. They also solve a lot of problems too. I also like that they kept trying to figure out who owned the books.
The illustrations in this book are realistic. They are black and white. If they were in color I think they would be light colors. It looks like they would be painted with watercolors.
I recommend this book to people who like adventure books and magic books. I recommend this book to first, second, and third graders.