Dogzilla
Written by Dav Pilkey
Illustrated by (same)
Reviewed by Dalvin B. (age 7)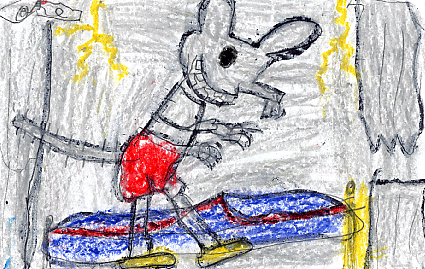 In this story, there are 8 mice and a dog. The dog's name is Dogzilla. He came to Mouseopolis from a volcano. The dog was trying to catch the mice. The mice solved the problem at the end of the story by giving Dogzilla a bath. There's a surprise at the end of the story!
I liked this book because it was made by Dav Pilkey, and Dav Pilkey writes good books. I liked the pictures because they are cool, especially the museum with the mouse skeleton! I was happy that the mice got away!
I would recommend this book to boys and girls that like dog and mice books. The book used photographs of Dav Pilkey's real animals! You would like to see them!