Teammates
Written by Peter Golenbock
Illustrated by Paul Bacon
Reviewed by Chad W. (age 9)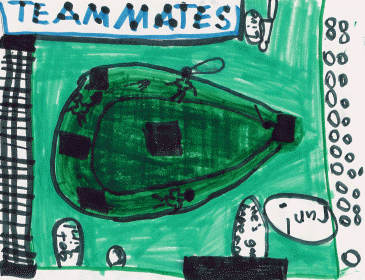 Jackie Robinson and Pee Wee Reese are the main characters. One day Jackie joined the Dodgers baseball team. Jackie was the first black on a white team. There were no black teammates on this baseball team. Everybody picked on Jackie just because he was a black player. One day when Jackie went out onto the field the crowd screamed horrible things at him.
My favorite part in this book was when Pee Wee put his arm around Jackie's shoulders. I liked how everyone was silent.
Pee Wee was an interesting character because he was white and he cared about Jackie. Other people treated Jackie badly because he was black. Pee Wee was brave because he stood up for Jackie.
I think this book is great. I loved the illustrations. They are incredible. The other reason that I like this book is because I believe in equal rights. This book teaches about equal rights because Pee Wee puts his arm around Jackie. Jackie went on a white team. He was the first black person to play on a white baseball team.
I would recommend this book to kids in grades kindergarten through fourth. Kids who like baseball would like this book and kids who want equal rights too.