The Sleeping Giant of Goll
Written by Tony Abbott
Reviewed by Alex N. (age 9)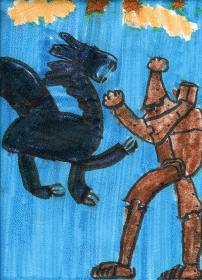 In the story, the main characters are Eric, Julie, Neal, Keeah, and Galen. The setting is in the desert. There is a guy named Lord Sparr. He is looking for a jewel that can wake up the sleeping giant of Goll. Luckily, the people of Droon have a dragon to fight back with if he wakes up. The bad part is the giant is made of bronze and the dragon is made of skin and bones. The dragon has flames coming out of its mouth and it can fly.
My favorite part was when Julie got sucked into a sand tornado and Eric tried to save her. I liked it because it was exciting.
This book is like books I've read in the Magic Tree House series. I think they are the same because the characters go on adventures and have problems.
I felt excited as I read the book. It made me wonder if there really is a Droon. It also made me wonder if the fight with the dragon and the giant would ever happen.
I strongly recommend this book because it is very exciting and adventurous. I would recommend this book to fourth graders and younger.