The Lion, the Witch and the Wardrobe
Written by C.S. Lewis
Illustrated by Pauline Baynes
Reviewed by Erin C. (age 9)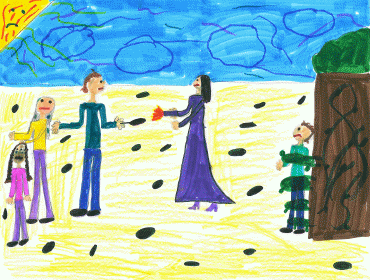 The Lion, the Witch, and the Wardrobe is about four children, named Susan, Lucy, Peter, and Edmund, who come to a professor's house. While they are there Lucy the youngest child finds a magical land behind a wardrobe. Her siblings do not believe her, so she has to prove it. She takes them on a very big adventure through Narnia, the magical land.
The problem is that a witch is after them because she does not like children. Unfortunately she captures one child named Edmund but the others go on an adventure to get him back.
I really liked this book because there were two adventures going on. One was when Edmund go lost in Narnia under a witch's power. The other one was when Peter, Susan, and Lucy were trying to get him back.
My favorite character is Lucy because she's only four or five and is very brave. I also like Lucy because she seems real, like she could be right next to me.
When I was reading this book I felt that I was in the book with them. I felt like I was the only person that existed.
I would recommend this book to someone who likes adventures and fiction books. I think people from third grade through seventh grade should read The Lion, the Witch, and the Wardrobe and the other Narnia books. They are very exciting.