America's Champion Swimmer
Written by David A. Adler
Illustrated by Terry Widener
Reviewed by Michelle B. (age 8)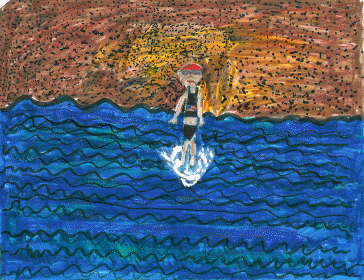 The main character is Trudy. When Trudy was seven, she and her father would go to a lake. Her father put a rope around her. Before she jumped her father told her to tug the rope when she started to sink. When Trudy started swimming she was not a very good swimmer. But later she tried to swim the English Channel. She was the first woman to try to swim the English Channel. The first time she tried, she failed. She failed because her instructor pulled her up because he thought she swallowed too much water.
After that Trudy did not give up. She tried again. Before she went into the water she put oil on her just like a whale. Then in the middle of the English Channel a storm came, but she still did not give up.
I like this book because it teaches people not to give up on something they really want to do. It also teaches people how to set their minds on something.
I think the illustrations stand out and look beautiful. The illustrator mostly used blue because the main thing in this book is water.
The book reminds me of my cousin, Miss Vermont, because she tried out for Miss America. She lost but she did not give up.
I recommend this book to people who are seven years old or older. I also recommend this book to people who like to swim because this book is about swimming. This book is also about not giving up.