Black Beauty
Written by Anna Sewell
Illustrated by Anna Sewell
Reviewed by Jack V. (age 6)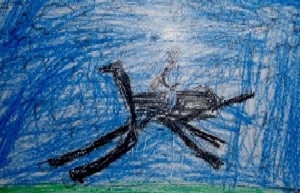 This book is about a horse who is so black and shiny they think it is beautiful. The horse gets sick,but then gets better after they give it a lot of water.
I liked when it was a baby because it was funny. Black Beauty kept falling down and having a hard time walking it had to jump a lot to walk. This book reminded me of when we go camping next to a farm with two black horses. The illustrations were very good they loked like real horses.
I think anybody would like this book even if they don't like horses because it is a very good book that is not only about horses. It is about people too.