The Weebie Zone-Gerbilitis
Written by Stephanie Spinner
Illustrated by Steve Bjorkman
Reviewed by Trevor H. (age 8)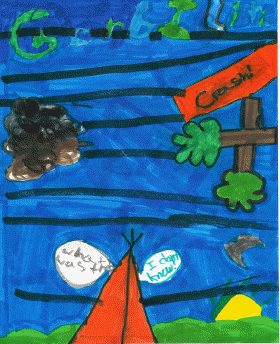 Gerbilitis is about a boy, Garth, who takes home a hamster from school for the summer. Garth forgot to feed Weebie so Weebie bit him. Then, suddenly, Garth could talk to animals like Weebie and his cat!
I think this book is very funny. I think this book is very good becuse it has a lot of humor and action. Like when Garth, his mom and dad were camping outside and a bear came and scared them. Garth's mom fought the bear by hitting the bear on the nose with a book!
When I read this book I felt like reading nonstop! This book also made me think of my hamster. It also reminds me of my hamster and cat. It reminds me of when my cat tried to get my hamster when I was doing my homework in the evening. He tried to get her by sticking his paw in the cage.
I liked the illustrations in this book because they show a lot of detail. For example the illustration that shows Garth's room and all of the shelves.
I recommend this book for kids ages 6-12 and grades 1-6. I think they would like this book because of all the humor, action and surprises.