Charlie and the Chocolate Factory
Written by Roald Dahl
Illustrated by Quintin Blake
Reviewed by Vivian C (age 11)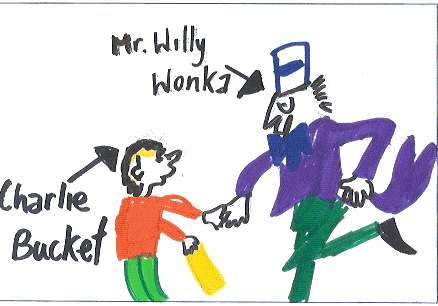 The main character in the book is Charlie Bucket. He is thin, short and small. He is not strong because his family is very poor and does not have much to eat. They only eat bread and magarine, boiled potatoes and cabbage for lunch and cabbage soup for dinner.
Charlie is nice, kind, brave and honest. He doesn't worry about anything although his family is so poor. My favourite part is when Charlie found the Gold Ticket. The Ticket gave him a change to go into the Chocolate Factory to have a look.
I give this book a rating of 8 out of 10 because I think it is very interesting. Almost the whole book is funny, altough some parts of it did bore me.