The Great Genghis Khan Look-Alike Contest
Written by Marjorie Weinman Sharmat
Illustrated by Mitchell Rigie
Reviewed by Kory B. (age 10)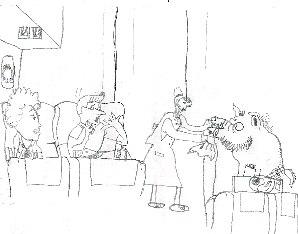 This book is about a dog named Duz and his owner, a boy named Fred. Fred owes his parents $248.10. To get the money he owes them Fred participates in a contest for his dog to be the new Genghis Khan dog in Hollywood. Duz wins the contest and gets to be Genghis Khan for one year and Fred has a way for earning the money to pay back his parents.
I liked this book because it was about a dog and I like dogs. I also liked it because Duz reminded me of a dog I used to have named Sandy.
My favorite part of the book was at the end when Duz was in a growling contest with two other dogs. They all had to growl to see who had the best Genghis Khan growl. I liked when Duz chased around the real Genghis Khan dog.
I liked the illustrations in this book. They are all in black and white. The illustrations helped me figure out what was going on in the book. One of my favorite illustrations was when Duz was on a plane with Fred and his parents and the flight attendant wiped off his mouth with a napkin.
I recommend this book for kids in grades 1-3. They will like the characters and the funny parts in the book.