Witches
Written by Roald Dahl
Reviewed by Olivia B. (age 8)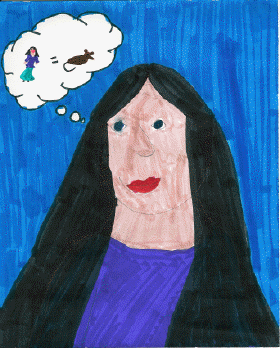 The Witches was about a boy named Luke and his Grandma. They are trying to get rid of all the witches of the world, but it's not that easy! The witches turn Luke into a mouse, but that doesn't stop Luke and his Grandma! Because they turn the head witch into a mouse!
I love this book because it was exciting and it was very, very, hard to stop reading. Roald Dahl used so much detail and description it really made the story good. For example, he explained so well what the witches looked like .
The Witches was so good it really made it seem like witches were real. When I was reading this book I felt excited, amazed and even a little scared. For example it was a little scary when Luke was trapped in a room full of witches!
Quentin Blake's pictures fit with Roald Dahl's stories really well. They make the stories even easier to understand. The illustrations don't have any color, but that doesn't matter because they are so detailed. The pictures fit so well with the story that it added a lot to the book.
I really recommend this book for students in grades 1-6. Roald Dahl's writing is so descriptive it really makes you want to keep reading and not stop. If you like funny and exciting stories then this is a book you want to read.