Junie B. Jones and Her Big Fat Mouth
Written by Barbara Park
Illustrated by Denise Brunkus
Reviewed by Ellen S. (age 8)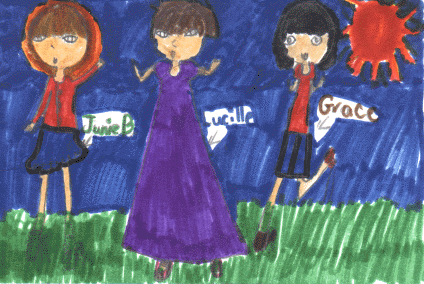 Junie B. Jones says she has a big fat mouth. She screams at her mom and other kids and in school she brags about herself. She says, "I HAVE THE BESTEST JOB IN THE WHOLE WIDE WORLD". But when she gets home she realizes she doesn?t know what job is the best in the whole wide world. One reason you should read this book is to find out what Junie B. Jones is going to be for Job Day.
We like this book because of the characters. Junie B., Lucille, and Grace are cute and silly kindergarteners. Our favorite part is when Junie B. saw a Lifesaver on the grass, picked it up and put it in her mouth. When the janitor saw her do that he yelled, "NOOOOOOOOO" and started to run after Junie B. Jones. This is our favorite part because it is funny when the janitor yells, "NOOOOOOOO." We thought this book was funny because Junie B.?s friends said that she had a big fat mouth. We read this book over and over again.
We recommend this book to people that love to laugh because this book is really funny. Another reason you should read this book is to find out more about the end of the book.