Curious George Goes to a Movie
Written by H. A. Rey
Reviewed by HL (age 6)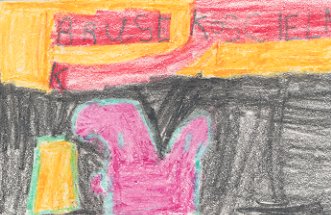 The most important thing that happens in this story is that Curious George gets on a bus and goes to a movie. George is a monkey and the man always wears a yellow hat. George is always curious and runs around a lot. The man in the yellow hat does not like when George runs around because he will miss the movie.
If I were in this book with Curious George I would like to be good and watch the movie. This was a good story to read and listen to. There is a neat surprise in the story when George messes up the movie. You will have to read the book to find out what.
Kindergartners will like this story because it is about a monkey. Curious George came to my school so I like to read books about him. You can learn how to make shadow hand puppets if you read this book.